Home Care – Help Your Senior Enjoy Reading Again on Paperback Day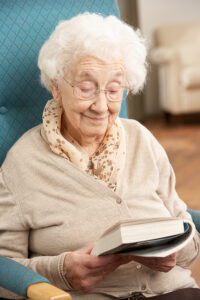 A little-known "holiday" is approaching. July 30 is considered Paperback Day in many libraries, where they encourage reading for all ages – including your elderly loved one.
Reading has been an age-old pastime, used for both passing on knowledge as well as delivering entertainment. But did you know that reading is good for your aging loved one and because of that,
July 30 is a great day to encourage your loved one to find a nice comfy spot – whether it's on an overstuffed sofa or in a hammock in the backyard or on the beach – to bury her nose in a book and reap the benefits of reading.
Here are five benefits of reading for your senior loved one.
Reading reduces stress. Reading a good book (whether it's a paperback, an e-book, or a hardcover) is one of the best ways to reduce stress. Losing oneself in a good story or a rich knowledge treasure trove reduces the heart rate and relaxes tensed-up muscles. If your loved one is feeling stressed, ask your home care provider to create an inviting and relaxing reading space for her to retreat to when needed.
Reading helps with decision-making. Reading regularly can help your senior with problem-solving skills and making decisions. It improves the analytical and reasoning power that your senior needs to make daily decisions. The next time her home care provider asks where she wants to go for a walk, she'll be able to decide quickly.
It enhances memory. Reading takes a lot of memory skills. Because the eyes cannot help with remembering who each character is, the memory must remember when "Joe" appears on the page that he is the long-lost son of the main character who had a horrible boating accident in Chapter 2. The brain gets a good workout as it reaches back into the memory to find those facts so your loved one can continue to enjoy the story.
It can delay the onset of Alzheimer's Disease. While there are great physical lifestyle changes you can take to reduce the risk of many diseases, this is one lifestyle choice your loved one can make to reduce the risk or delay the onset of cognitive disorders such as dementia. Reading challenges the brain in many ways and that creates neuronal connections, making it more difficult for Alzheimer's to make progress in those areas.
It helps with sleep. Using reading as a bedtime ritual can help trigger the mind and the body to relax and go to sleep more easily each night. Having your home care provider set up an area for this bedtime ritual may help your senior sleep better at night and therefore, feel better all day long.
So, plan a trip to the library or your local bookstore, and get your senior loved one reading again. She'll have so much fun she won't even realize how much good she is doing for her brain.
If you or an aging loved-one is considering home care in Elk Grove, CA please contact the caring staff at Aging Assistant today. (916) 897-4752
Latest posts by James Ozsvath
(see all)