Senior Home Care – Easy Summer Activities for Your Loved One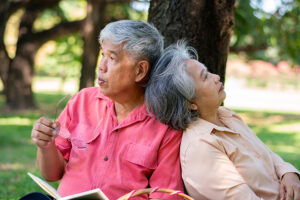 It can be hard to keep your retired seniors busy, especially when you have to care for them full-time. If you're feeling burned out and don't know how to keep your loved one busy anymore, or you're both having difficulty following a routine, it's time to find part-time senior home care. These professionals can help give you a break while keeping you both on a good routine. Senior home care can also help take your loved one to do activities to give you a much-needed break. Here are some easy summer activities your senior may love to do. They are not hard on the body and can be entertaining for them and give them something to look forward to.
Picnic In The Park
If you are trying to find ways to encourage your seniors to eat, make it a fun activity. In the summer, it can be warm enough for your seniors to go outside and enjoy nature but also eat! Senior home care can help pack a fresh meal to take to the park and encourage your senior to eat. This is also something you can set up with family and friends. If you visit a local park, your loved one can watch your kids play while eating. Making this a fun experience will encourage your loved one to eat more, especially if everyone else is eating.
Cloud Watching
As kids, you may have grown up cloud-watching. Well, this can be a fun activity for seniors too. Take your loved one to the park and set out a blanket, or find a nice bench to sit and observe the sky. This is a great way to get them out in nature and boost happy chemicals in the body. Bring a sketch pad and have your senior draw out the clouds they are seeing. Be sure to sit in the shade and wear tons of SPF so you are protecting your loved one's skin.
Stargazing
If your senior can stay up later and the neighborhood is dark enough, you may be able to sit out on your deck with them and watch the stars at night. Ask them if they know any constellations or stories of the stars; they might surprise you with their knowledge. Summer is a great time to do this activity because it is not as cold out as other times of the year.
Going to a Museum
Not all seniors will want to be outside, especially if they live somewhere that gets hot outside. If that sounds like your senior, try taking them to an air-conditioned museum. Often, they will get senior discounts, but they also may have free days for everyone to enjoy. This can be a chance to see their favorite exhibit, or look at art or statues. Take a look at what museums are in your local area and work around each museum.
Animal-Watching
Many seniors love animals but can't own any. Instead of trying to buy animals for their house, take them to watch animals. They can look for deer, porcupines, birds, and other animals. There may be a nature reserve near you, and this is somewhere you can take your loved one to go animal-watching.
If you or an aging loved-one is considering senior home care in Lodi, CA please contact the caring staff at Aging Assistant today. (916) 897-4752
Latest posts by James Ozsvath
(see all)